It's really hard to select a good outfit for this occasion because you really need to be on your best appearance. There are heaps of stunning Mother of the bride dresses out there and you should be able to find something that makes you feel yourself and also makes you feel comfortable enough throughout the wedding party.
Not all the outfits include a seriously long evening dresses anymore and depending on your age and size you can easily adapt and accessorize the ensemble with simple refined jewelery or a fun clutch.
Le Deux Piece
I think that a soft warm toned color not too pastel or beige would be perfect. You can wear it with long or short-sleeved-jacket in the beginning and loose the jacket later in the evening. Usually this jacket has coordinated tone and materials and there are some custom made boleros have those small pearly details in soft patterns. I wouldn't suggest matching a different color bolero because it can ruin the whole outfit.
Th clasic little black dress
This dress has no age and you can easily dress it up with some metallic accessories or an amazing pair of sandals. The lenght of the dress should have medium or ankle lenght in order to be able to still attend to your duties on the wedding day and not feel chained to the floor with a long dress.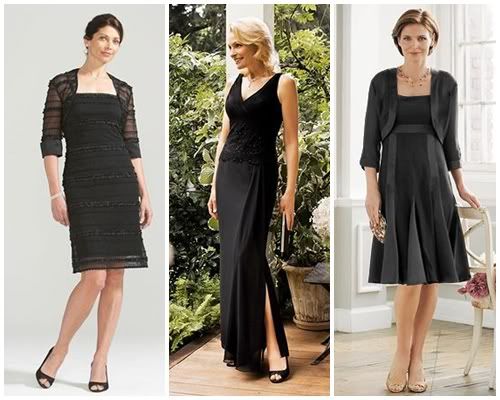 Bold Choices
I also think a tailor made suit with pants would be a great option. You can wear it with a satin or silk top and a gorgeous wrap. You can choose other trendy choices if you have the looks and a younger spirit, like a floral pattern dress, a one-shoulder dress or a lace detail dress.