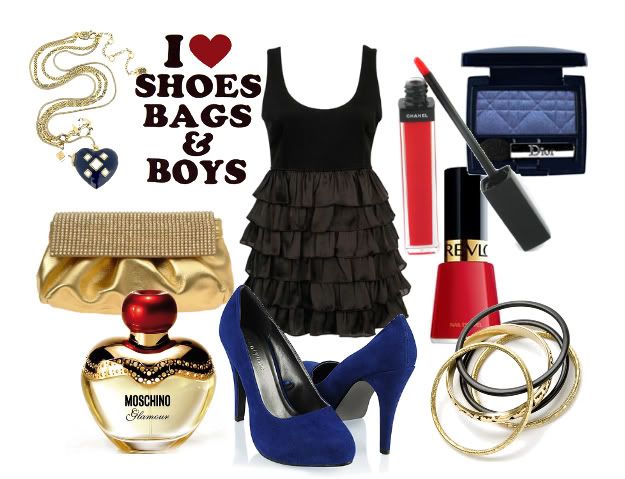 Because there is a time for joy this Saturday on Valentine's Day, I figured I would brake the routine with this cool sexy outfit in my favorite colors this spring Gold and Ink / Navy. If you don't like navy or you planned to wear red you can replace navy with that and you'll get the same look.You can always change the tone of the accessories and go to a more silver look but no matter what metallics are still hot.
I would wear this outfit out on a date for Valentine's to some drinks or to a club. The heels are not so terrible so you'll be able to stand and even dance a couple of songs.
I love this ruffled tank-dress mostly because it can be worn at night but casual too, it's a sort of hybrid 🙂 The navy shoes have the same "feature". I just love their color!!! They're both available on Forever21. The accessories make this outfit more glamorous and add a touch of sparkle to it. You can wear Marjorie Baer Bracelets and a Double chain pendant necklace because they both have a colored enamel touch. A golden clutch fits the scene perfectly and you'll surely love the Swarovski 'Golden' diamante from this bag from Gina's.

If you're in the seductive Valentine's Spirit, go for deep red nail polish a sweet Moschino fragrance and a high shine Chanel gloss . Match a deep eye shadow and you're done.
That's it! Enjoy!