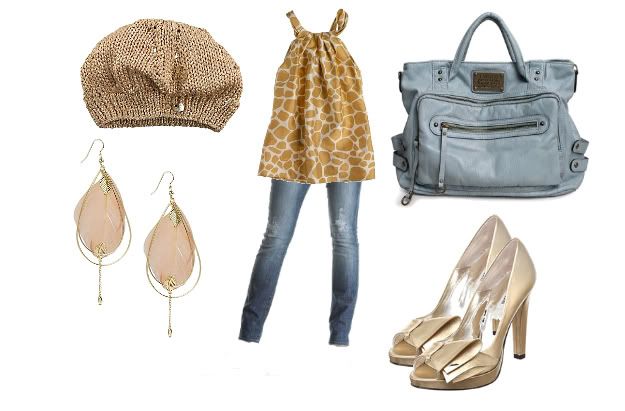 To get a super chic and sexy look by wearing these shredded jeans you can start by wearing some amazing heels and a cool cruise collection top.
The shoes – These golden peep toes will turn all the eyes on you. Love the semi-bow, though I think they duplicated the same shoe in the picture. :))
The top – This is not a boring outfit! The giraffe style cami is so sexy and light and it kind of makes you dream of summer and tanned skin.
The jeans – TheStraight Leg Distressed Jean from BEBE go perfectly with the golden peep toes. Wear them as a girls night out outfit or when you go out with your boyfriend. They'll do the trick in both cases.
The accessories– Hope you like golden vibes because this summer it's all about shining. Keep it cool with a trendy Glitter Beret from Coach and some feather earrings. If this is a daytime outfit, choose a medium-sized tote. I love this Faux Leather Convertible Bag because it has this unusual jeans color, it's perfect!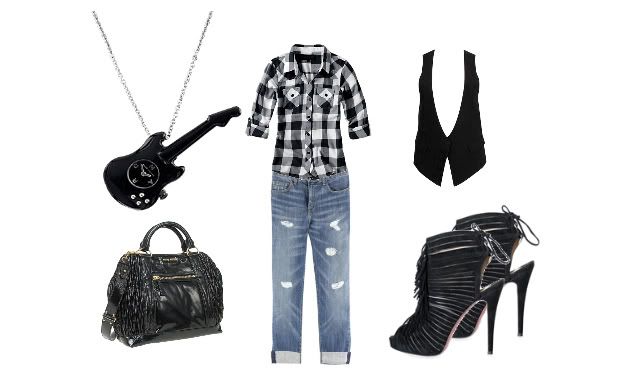 I left my favourite outfit last because I really wanted to admire it some more. It has everything : the heels, the glam, the plaid… it's a rock chic outfit you can have fun with. Accessories are the most important so I'll start there.
The accessories – Have to share one main color, don't know why but this ballances the whole outfit. Usually you shouldn't mind the shirt when choosing some shoes, but I really like these black fringe booties.You can bend the jeans so that some skin shows just above your ankle, this is really sexy. The guitar pendant is Marc Jacobs and is actually a small guitar watch. However, you should try to find cheaper, vintage items that do the same trick. Lots of celebrities wear vintage and even cheap clothes.
The vest – I don't know why vests remind me of The Jonas brothers :)) I know it sounds stupid but I can't figure out why. Anyway this vest comes from Forever21 and it's only $17,8 !! Really cheap and chic.
The shirt – You can find this shirt on any Gossip Girl epissode 🙂 I was just kidding, but they still have an obsesion with plaids ! Anyway this Buffalo Plaid Shirt is a good season investment as anyone is now wearing it.