What I love about this time of the year – besides the joyful spirit and all the presents!!! – is that December is the month of holiday parties and various theme parties!
One of the most popular themes are the one that celebrate the fashion eras, such as for example, the 80's. These types of theme parties are so classic by now but I noticed that there are many gaps in the way people dress. This is why I wanted to give you a few tips on what to wear on an 80's inspired theme party and what options you have to create these types of looks.
As usual, location and audience are key, so even if you end up celebrating at home with a bunch of friends or you share the event with your co-workers or with lots of other people in a club, there is a wide selection of looks you can try and that will make you look like an 80's star, powerful career woman or a shiny disco queen!
One of the biggest inspiration for pulling off an 80's inspired outfit is to do some research and to be aware of what happened back then. What was the world like, what inspired people? A good starting point would be the entertainment industry. Music and movies are such a big part of this scene because most of the influential entertainers in the music industry and in the movies were 'born' in the 80s.
What were the idols and the icons of the 80's?
Think about icons such as Madonna, Cyndi Lauper, George Michael, Michel Jackson or Whitney Houston. They all had a remarkable influence on fashion and on the entire 80s world. Fashion and style movements revolved around the new disco beats and break-dance moves and the famous Michael Jackson moonwalk dance.
It was an era of freedom and excess, color, volume, and overwhelming shine. One of the best examples are the statement items of those times : leather jackets, over-sized shoulder pads, tight acid washed jeans, lace gloves, shiny leggings, colorful headbands, funky leg-warmers and sexy colorful heels. All of these are now worn in minimal doses, but back then, you tried to wear as many of them in a single outfit, which made the entire look very "in-your-face".
If you want to get the perfect 80s look you need to choose a them and go for it.
The Work-Out Gear
The "work out" gear became massive because of the work-out video tapes and the "Let's get physical" types of songs. Leg-warmers and neon leggings are a must to get the feel of this look. Don't be afraid to wear loose tops or even cut-our sport gloves, they are all part of the outfit. The leotard can also be a good option if you have enough guts to wear it. You can always make it less tacky by choosing some opaque tights under it.
The Music Diva – Madonna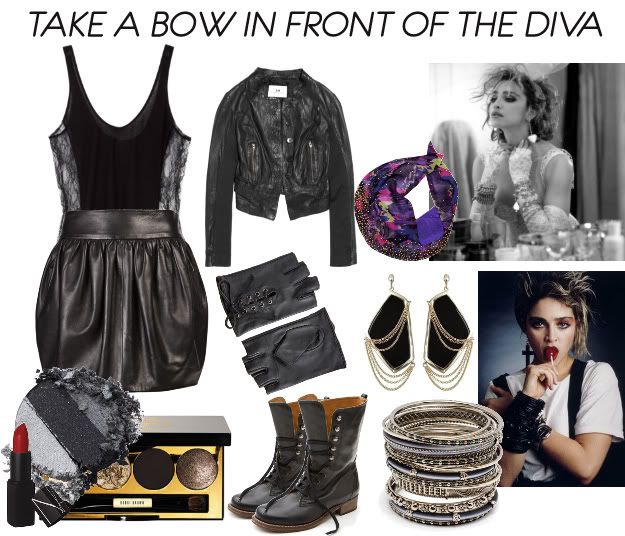 I think Madonna is the most powerful woman icon when it comes to 80's style influences. You can never go wrong by having her as an inspiration, just take any video from back then and make your outfit feel adorned with lace, leather, excessive jewelry or heavy makeup. Use a headband and keep your hair big and wavy. Leggings and bustier type tops may also come in handy when you want to get an 80s look, so you could consider them as well.
Preppy Inspiration
The Preppy Outfit can be easily achieved nowadays when we have constant inspirations! The style has actually never left the scene and you can notice that many of the statement preppy items are still very much into nowadays fashion. The classic preppy style is usually based on white and navy but you can make it more fun and party-like by choosing a Lacoste polo or a Polo polo in a brighter color such as pink or light-blue. You can wear it with a pair of khaki pants or a plaid wrap skirt.
Cardigans are also very cool for an 80s preppy look! You ca go for a longer and looser one or for a more structured Chanel type cardigan. Cashmere work just fine as well, but choose a simple sweater and tie it around your shoulders on top of your Polo T-shirt, just like you were going for a tennis practice. As for shoes and accessories, all these items work very nicely with ballet flats or over the knee stockings. White sneakers are also a way to highlight the white and navy striped look. Put a headband and keep hair and makeup natural.
For extra tips you can definitely check out season 1 and 2 from Gossip Girl, most of the classic preppy outfits are well highlighted there.
Hey Cheerleader! Hey Mickey!
The Cheerleader concept was very hip back in the 80s. You can get inspired by so many videos and movies but I think that the song that generated the biggest buzz was "Hey Mickey -You're So Fine You Blow My Mind" by Toni Basil. The Cheerleader idea was much more about sport back then, nothing too sexy but rather liberated and energetic. The classic cheerleader costume is all about the mathcing pleated short skirt, skin-tight sports top, leg-warmers and sneakers, but you can also juggle and go for replacements like a tennis skirt and a simple tank top.
Hoodies are also cool to integrate in the outfit and don't forget about hair and makeup, they are very imporant. Try to create a glittery colored type of makeup, draw icons such as stars or little hearts from makeup. Blue, green, silver and red are the best colors to choose from. Regarding hairstyles, the 2 tails is a must :))) Oh and don't forget your pom poms! 😉